Dove Gentle Exfoliating Beauty Bar Soap, 4 x 100g
1/4 moisturising cream and mild cleansers help skin retain moisture
Exfoliating beads gently wash away dead skin
Effectively cleans hands
Suitable for daily use on hands, skin and face
A moisturising bar that leaves skin softer, smoother and healthier looking
— or subscribe and save 10%
Compare
Compare
Frequently Bought Together
— or subscribe and save 10%
+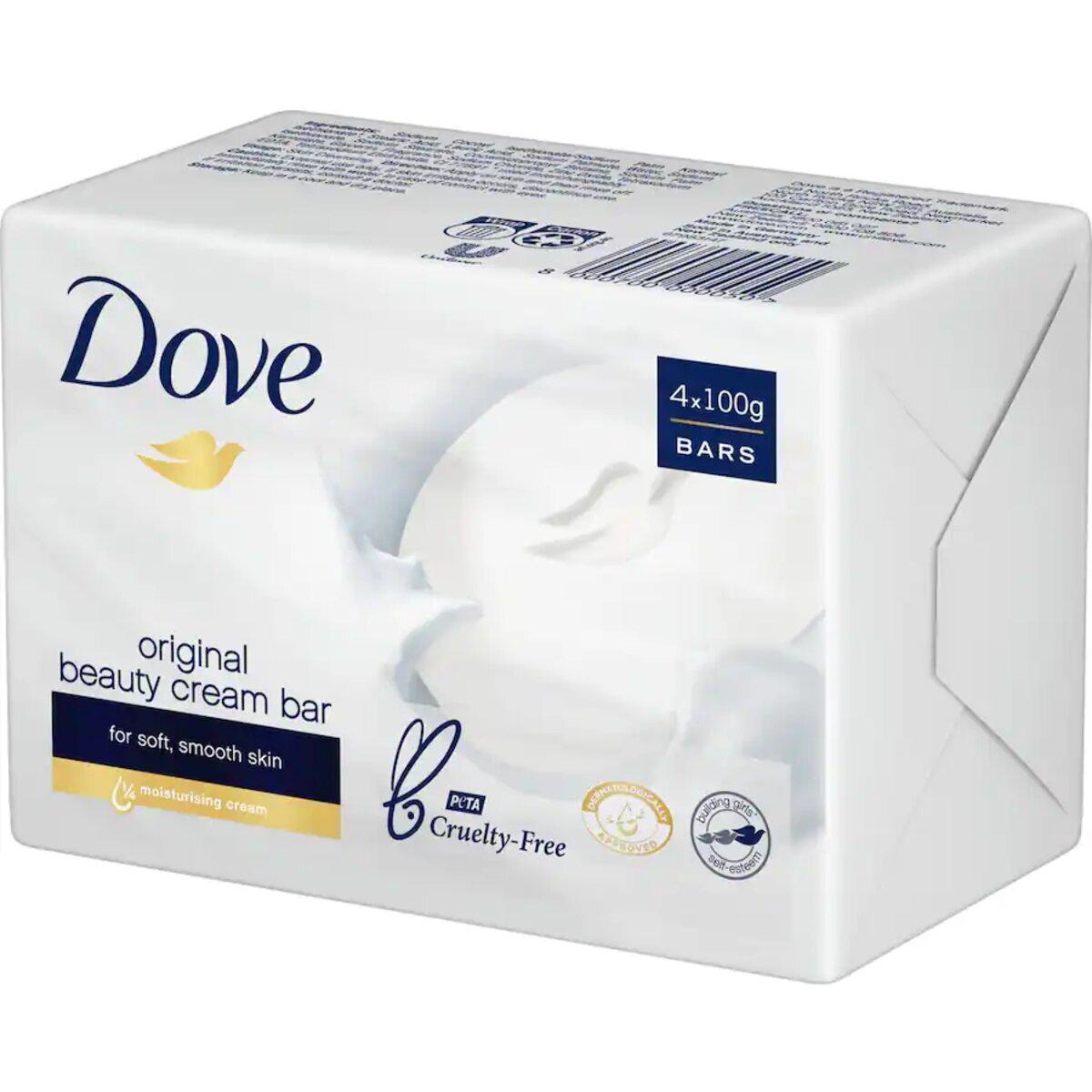 — or subscribe and save 10%
Dove Gentle Exfoliating Beauty Bar Soap, 4 x 100g
Welcome to Dove Gentle Exfoliating Beauty Bar, the soap that gives you soft, smooth skin without being harsh on your skin. We all know how important exfoliation is for keeping our skin looking its best, but sometimes it can be difficult to find a product that strikes the perfect balance between being gentle and effective. That's why we've formulated this beauty bar with our signature mild cleansers and ¼ moisturising cream, to give you gentle yet effective exfoliation that leaves your skin feeling nourished and cared for.
We all deserve to have beautiful, healthy-looking skin, and Dove Gentle Exfoliating Beauty Bar is the perfect way to achieve that goal. So go ahead and pamper yourself – your skin will thank you for it!
Dove Gentle Exfoliating Beauty Bar provides you with gentle exfoliation, washing away dirt and dead skin to leave your skin feeling beautiful and revitalised. Suitable for regular use on hands, body and face, Dove Gentle Exfoliating Beauty Bar leaves skin feeling soft and smooth – every day.
Benefits of Dove Gentle Exfoliating Beauty Bar:
Exfoliating beads gently wash away dead skin
Dove doesn't dry skin like soap can
¼ moisturising cream and mild cleansers help retain skin's moisture
Leaves skin softer, smoother and healthier-looking
Suitable for daily use on face, body and hands
It's not a soap – it's a beauty bar
Gentle exfoliation:
If you've been wondering how to get smooth skin, adding exfoliation to your cleansing regime is the key. Sometimes, when skin is dull, tired and rough to the touch, it needs a little more help than just cleansing – and that's where Dove Gentle Exfoliating Beauty Bar comes in. It gently removes dull, lifeless skin and retains natural skin moisture
Moisturising skin:
Our Gentle Exfoliating Beauty Bar contains the ¼ moisturising cream you know and love, which helps to nourish skin as it cleanses, leaving it feeling softer and smoother.
Mild cleansing:
It's a gentle skin cleanser that reduces the chance of irritation or dryness, so it's the perfect addition to your daily routine, both for your body and your face
Dove Gentle Exfoliating Beauty Bar Reviews
After using Dove Gentle Exfoliating Beauty Bar, it's helpful to let others know about your experience. Reviews of an item help other users know that medicines received have helped the condition it is claimed for, how well the treatment worked or any issues to be aware of. We invite our users to leave a review of both their treatment and of the service provided. Click on the reviews tab to see if there has been feedback on this item.
What is the price of Dove Gentle Exfoliating Beauty Bar in Nigeria?
The price of Dove Gentle Exfoliating Beauty Bar is N1,850
Where can you buy Dove Gentle Exfoliating Beauty Bar In Nigeria?
You can Buy Dove Gentle Exfoliating Beauty Bar at Asset Pharmacy Lagos Nigeria, Nigeria's Largest Online Pharmacy
How to Use
Wet your hands and rub the Gentle Exfoliating Beauty Bar between them gently until you work up a rich, creamy lather. Smooth the lather evenly over your body, massaging it in to get the exfoliants working. Finally, rinse thoroughly with warm water.
Ingredients
Sodium Lauroyl Isethionate,Stearic Acid,Sodium Palmitate,Lauric Acid,Aqua,Sodium Isethionate,Sodium Stearate,Cocamidopropyl Betaine,Parfum,Sodium Palm Kernelate,Glycerin,Sodium Chloride,Zinc Oxide,Cera Microcristallina,Tetrasodium EDTA,Tetrasodium Etidronate,Alumina,Alpha-Isomethyl Ionone,Benzyl Alcohol,Butylphenyl Methylpropional,Citronellol,Coumarin,Hexyl Cinnamal,Limonene,Linalool,CI 42090,CI 77891.