Natures Field Immune Defence Advance Tablets, 100 Tablets
Effective Immune Booster for Adults and the Elderly
Helps the body to fight infections naturally
Contains 7 unique constituents 
— or subscribe and save 10%
Compare
Compare
Frequently Bought Together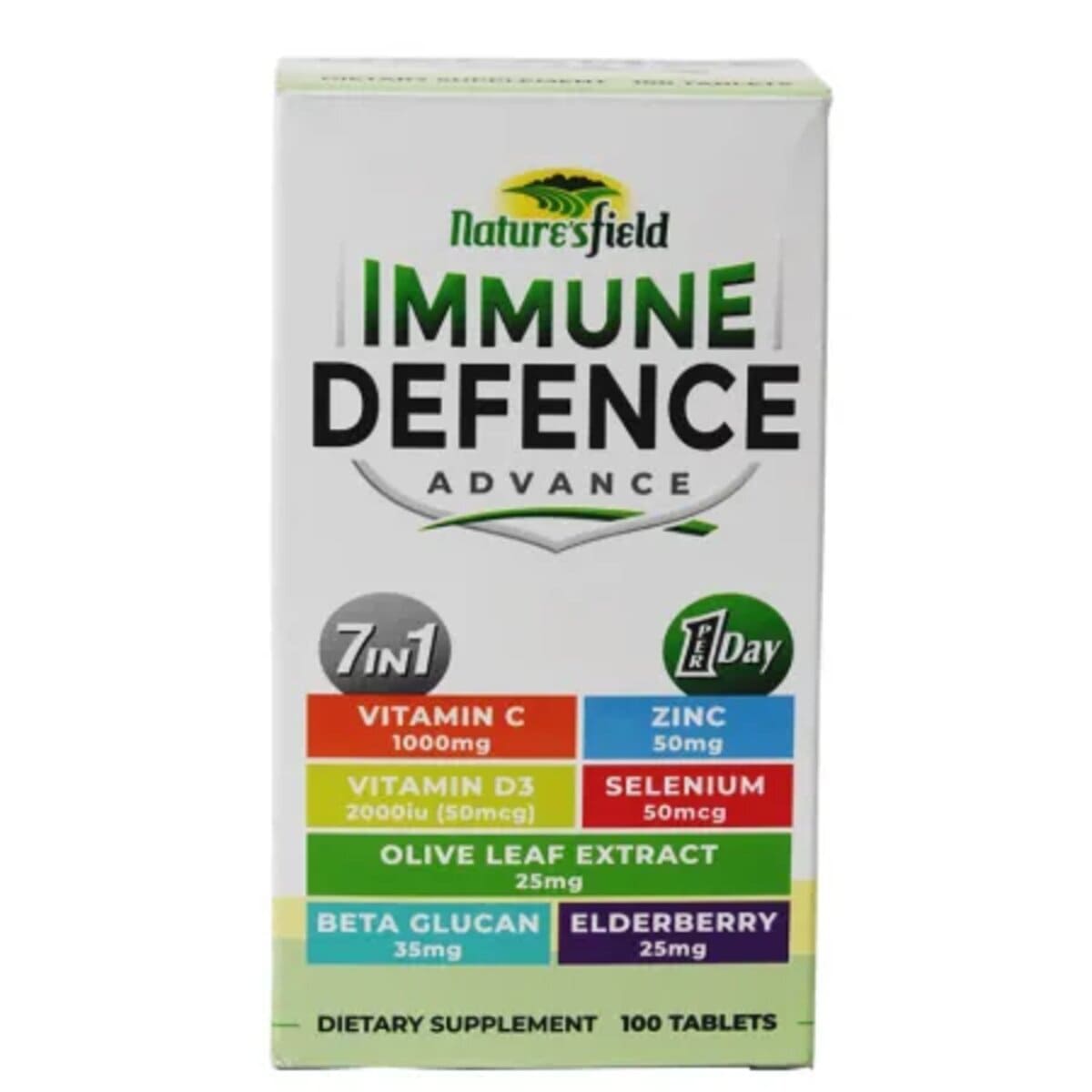 — or subscribe and save 10%
+
Natures Field Immune Defence Advance Tablets, 100 Tablets
If you're looking for a natural way to boost your immune system, you'll want to check out Natures Field Immune Defence Advance Tablets. This 7-in-1 immune booster is packed with vitamins and herbal extracts that are known for their ability to support the immune system and promote overall well-being.
Some of the key ingredients in Immune Defence Advance include vitamin C, echinacea, and goldenseal. Vitamin C is a powerful antioxidant that helps protect cells from damage. Echinacea is a well-known herb that has been used for centuries to fight off infection. Goldenseal is another time-tested herbal extract that is known for its ability to promote digestive health.
In addition to these key ingredients, Natures Field Immune Defence Advance Tablets also contain a blend of other vitamins and minerals that are essential for maintaining a healthy immune system. So if you're looking for an easy and convenient way to give your immune system a boost, pick up a bottle of Natures Field Immune Defence Advance Tablets today!
7 Essential to boost the immune system:
Vitamin C (1000mg): Vitamin C combats free radicals and quickens wound healing. It possess antiviral property and reduces the risk of upper respiratory tract infections
Zinc (50mg):  As Zinc oxide, it boosts immune functions, act as an active agent against H1N1 influenza and inhibits SARS-coronavirus RNA polymerase by suppressing its replication.
Vitamin D3 (2000iu): Vitamin D3 possesses anti-inflammatory and antioxidant property and inhibits over-expression of pro-inflammatory cytokines. A very good therapeutic agent for acute respiratory tract infections (ARTIs).
Selenium (50 mcg): Selenium in Immune Defence Advance possesses antioxidant property and boost immune functions.
Olive leaf extract (25mg): Olive Leaf possesses antimicrobial properties and cardioprotective effects.
Beta-glucan (35mg): Beta-glucan activates your body's non-specific immune system response.
Elderberry (25mg): Elderberry treats common symptoms related to cold, feverish conditions, coughing, nasal congestions, sore throats, mucous discharge and influenza.
Benefits of Natures Field Immune Defence Advance Tablets:
Suitable for Immuno-compromised patients or people with impaired immune system
Beneficial for post surgical operation patients
A very effective Immune Booster for Adults and the Elderly
Immune Defence Advanced helps to reduces risk of contracting acute respiratory tract infection
Promotes growth of beneficial intestinal microflora for good colon health
Helps the body to fight infections naturally
Natures Field Immune Defence Advance Tablets Reviews
After using Natures Field Immune Defence Advance Tablets, it's helpful to let others know about your experience. Reviews of an item help other users know that medicines received have helped the condition it is claimed for, how well the treatment worked or any issues to be aware of. We invite our users to leave a review of both their treatment and of the service provided. Click on the reviews tab to see if there has been feedback on this item.
What is the price of Natures Field Immune Defence Advance Tablets in Nigeria?
The price of Natures Field Immune Defence Advance Tablets is N13,300
Where can you buy Natures Field Immune Defence Advance Tablets In Nigeria?
You can Buy Natures Field Immune Defence Advance Tablets at Asset Pharmacy Lagos Nigeria, Nigeria's Largest Online Pharmacy.
How to Use
Take one tablet once daily
Product Details
Store in a cool dry place.
Keep away from children.
No side effects.
Ingredients
Key Ingredients
Vitamin C, Zinc oxide, Vitamin D3, Selenium, Olive leaf extract, Beta-glucan, Elderberry