Frequently Bought Together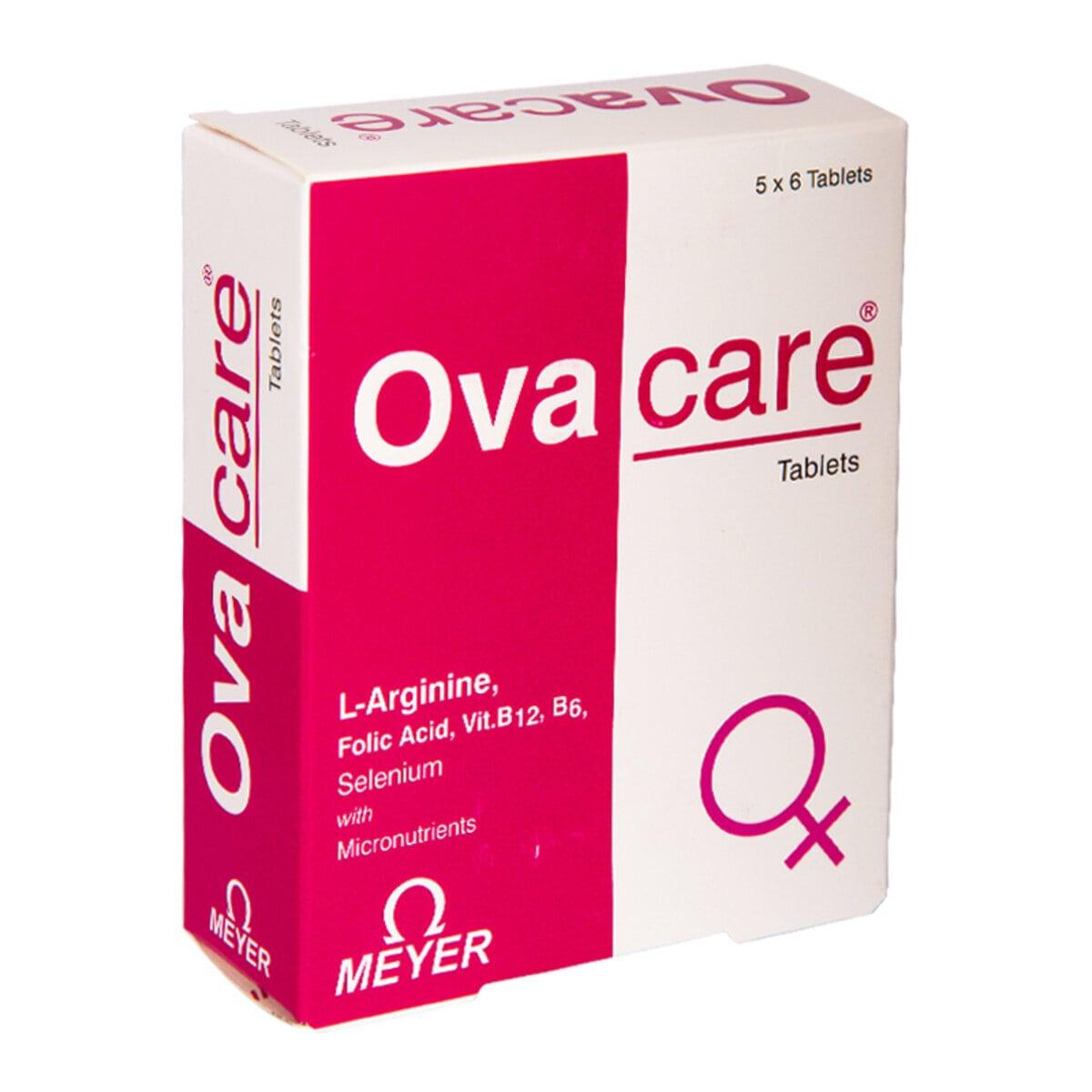 — or subscribe and save 10%
+
Ovacare Tablets, 30 Tablets
If you're trying to conceive, you know how important it is to get all the nutrients your body needs. That's why Ovacare tablets has specially designed a micronutrient formulation to support the requirements of women who are trying to conceive.
Ovacare tablets provides carefully balanced micronutrients and vitamins, including folic acid, which is essential for the development of the neural tube. So whether you're just starting to try to conceive or you've been trying for a while, Ovacare can help give you the nutritional support you need.
If you're trying to conceive, Ovacare is the perfect supplement for you.
Benefits of Ovacare tablets:
Inositol helps support ovarian function and restores menstrual cycle.
L-Arginine improves ovarian function and pregnancy rate.
Folic Acid plays important role in process of conception.
Antioxidant helps to reduce oxidative stress.
Inositol, L-Arginine, Folic Acid, Vit. B12, B6, Selenium with Micronutrients
Ovacare Tablets Reviews
After using Ovacare Tablets, it's helpful to let others know about your experience. Reviews of an item help other users know that medicines received have helped the condition it is claimed for, how well the treatment worked or any issues to be aware of. We invite our users to leave a review of both their treatment and of the service provided. Click on the reviews tab to see if there has been feedback on this item.
What is the price of Ovacare Tablets in Nigeria?
The price of Ovacare Tablets is N2,700
Where can you buy Ovacare Tablets In Nigeria?
You can Buy Ovacare Tablets at Asset Pharmacy Lagos Nigeria, Nigeria's Largest Online Pharmacy.
How to Use
As a dietary supplement, 2 tablets at a time or in two divided dose after meal.
Ingredients
Myo-Inositol / Inositol(100.0 Mg) + Vitamin C / Ascorbic Acid(75.0 Mg) + Elemental Magnesium(25.0 Mg) + Niacinamide / Nicotinamide(22.5 Mg) + Para Aminobenzoic Acid(12.5 Mg) + Vitamin E / Tocopherol(12.5 Mg) + Elemental Zinc(10.0 Mg) + Elemental Iron(9.0 Mg) + Vitamin B1 / Thiamine(5.0 Mg) + Vitamin B6 / Pyridoxine(4.5 Mg) + Vitamin B2 / Riboflavin(6.5 Mg) + Elemental Manganese(1.5 Mg) + Vitamin B9 / Folic Acid / Folate(1.5 Mg) + Elemental Copper(750.0 Mcg) + Vitamin B12 / Mecobalamin / Cynocobalamin / Methylcobalamin(500.0 Mcg) + Vitamin A / Retinol(375.0 Mcg) + Elemental Selenium(100.0 Mcg) + Elemental Chromium(50.0 Mcg) + Elemental Iodine(50.0 Mcg) + Vitamin D3 / Cholecalciferol(12.5 Mcg)
Nutritional Information
Nutritional Information
Inositol (Myo-Inositol) 100mg
Para Aminobenzoic Acid (PABA) 12.5mg
Vitamin E (Acetate) 12.5mg
Elemental Zinc – 10mg
Elemental Iron – 9mg
Vitamin B1 Nitrate – 5mg
Vitamin B6 – 5mg
Vitamin B2– 2.5mg
Elemental Manganese – 1.5mg
Elemental Copper – 750mcg
Vitamin B12– 500mcg
Vitamin A -375mcg (1250 I.U.)
Elemental Selenium – 100mcg
Elemental Chromium – 50mcg
Elemental Iodine – 50mcg
Vitamin D3 – 12.5mcg (500 I.U.)
While every care has been taken to ensure this information is always as accurate as possible, food products are regularly improved and nutrition content may occasionally change. As a result, we recommend that you always read the label carefully before using or consuming any products. Nutritional Reference Value (NRV) information is based on the typical composition of the product. Guideline daily amounts are those for a typical adult (men and women).NRV information for non Asset Pharmacy products is calculated by the manufacturer. Asset Pharmacy has no control over the recipe or nutritional content of such products and information on this site may differ to that given on the product label. We would therefore recommend you do not solely rely on this information and always read the product label
How to store
Keep this medicine out of sight and reach of children. Do not store above 25˚C. Store in the original container. Keep the container in the outer carton. Do not use this medicine after the expiry date which is stated on the label and/or carton. The expiry date refers to the last day of that month. Medicines should not be disposed of via wastewater or household waste. Ask your pharmacist how to dispose of medicines no longer required. These measures will help to protect the environment.
Delivery
Delievry time are estimates. Can vary due to the time of day you order.
Delivery time estimate are subject to the courier company.
Shipping to Lagos cost starts from N1850 Next day delivery
Shipping to Rest Of Nigeria – 2-3 days cost starts from N2000
Shipping to Rest of Africa –  5-7 working days Cost starts from N12000
Shipping to Europe 7 – 14 working days Cost srats from N18000
Shipping to Rest of the world – 7 – 14 days Cost starts from N18000