Frequently Bought Together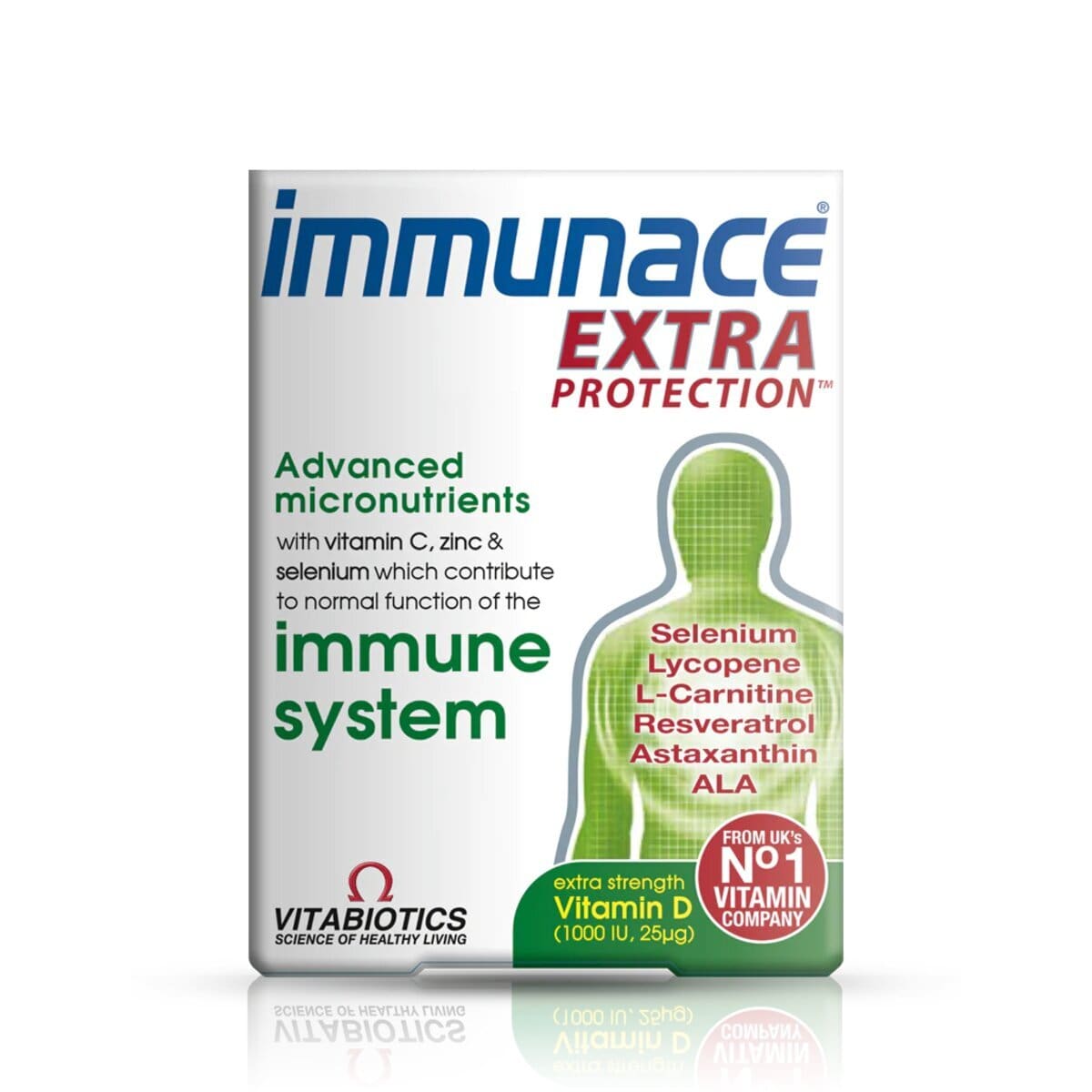 — or subscribe and save 10%
+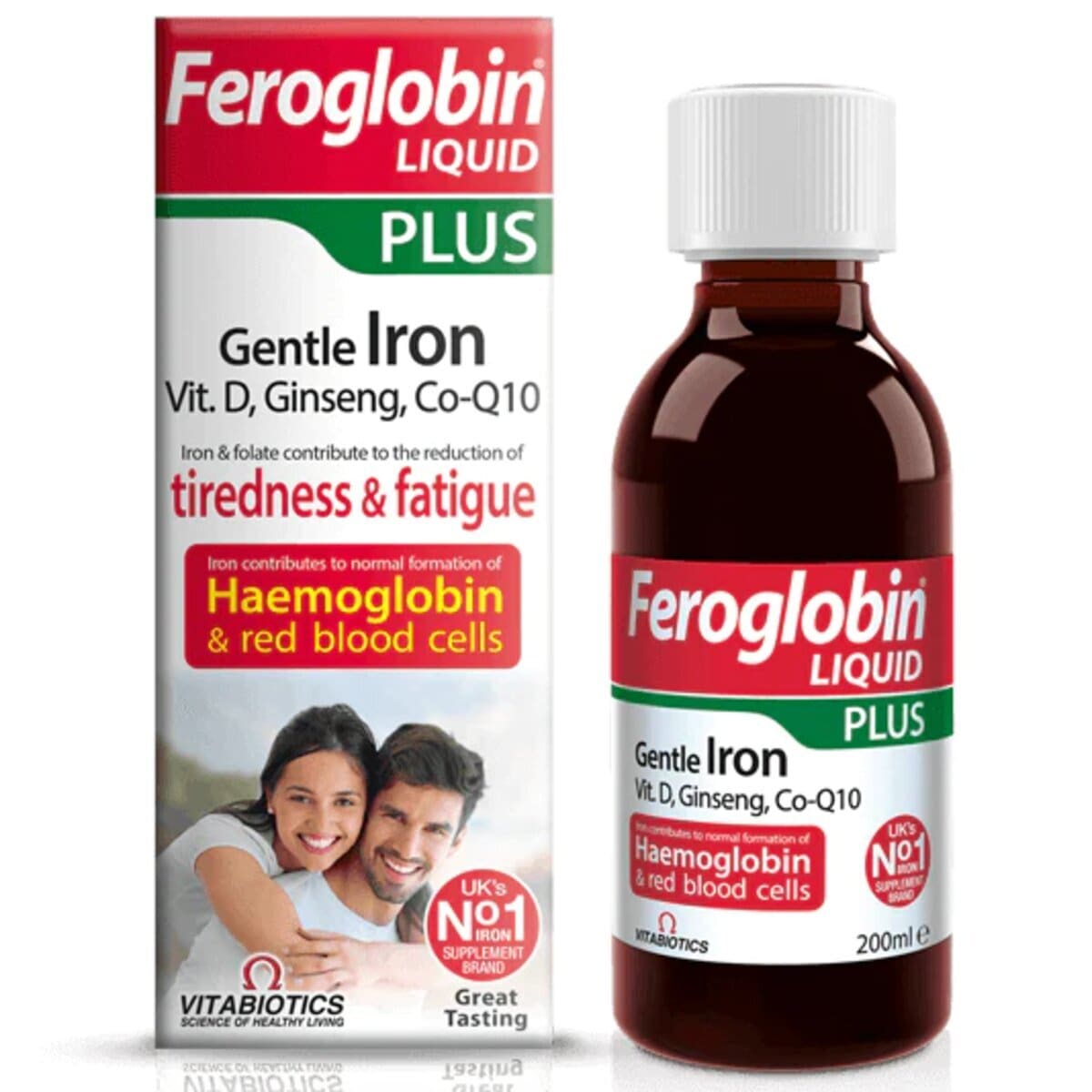 — or subscribe and save 10%
Vitabiotics Immunace Extra Protection, 30 Tablets
Immunace Extra Protection is a great way to give your immune system the support it needs with ingredients like Vitamin D3, Zinc, and Selenium that contribute to its normal functioning. Plus this product makes for an excellent daily multivitamin supplement for men and women alike!
Are you concerned about your immune system's ability to fight off illness and infections?
It can be frustrating and stressful worrying about your health, especially during flu season or when traveling. You want to feel confident that your immune system is strong enough to handle whatever comes your way.
Introducing Vitabiotics Immunace Extra Protection! This powerful supplement is designed to provide your immune system with the support it needs to function optimally. With a unique combination of vitamins, minerals, and nutrients, Immunace Extra Protection helps to boost your body's natural defenses against illness and infections.
When you want to recharge your defenses, Immunace Extra Protection can be taken for as long or as short as you need – that means there are no limits when it comes to taking care of yourself!
Life throws a lot of curveballs our way, some good and some bad. It's no fun playing defense all the time, but we all need to take steps to protect ourselves. That's why Immunace Extra Protection is here: to help keep you ready for whatever life throws at you with daily nutritional safeguards. This great supplement will make sure your body has the vitamins, minerals, and antioxidants it needs to stay strong and healthy in these times.
So don't wait until you're feeling run down! Give yourself guaranteed protection every single day with Immunace Extra Protection – you'll thank yourself later!
Features of Immunace Extra Protection:
Contains 28 essential nutrients including vitamin C, vitamin D, zinc, and selenium
Specifically formulated to support immune system health
Suitable for vegetarians
Easy-to-swallow tablets
Benefits of Immunace Extra Protection:
Helps to strengthen your immune system, reducing the risk of illness and infection
Provides your body with the nutrients it needs to function at its best
Gives you peace of mind, knowing that you're doing everything you can to support your immune system
Immunace Extra Protection Reviews
After using Immunace Extra Protection, it's helpful to let others know about your experience. Reviews of an item help other users know that medicines received have helped the condition it is claimed for, how well the treatment worked or any issues to be aware of. We invite our users to leave a review of both their treatment and of the service provided. Click on the reviews tab to see if there has been feedback on this item.
Order your supply of Vitabiotics Immunace Extra Protection today and take the first step towards a healthier, stronger you!
What is the price of Immunace Extra Protection in Nigeria?
The price of Immunace Extra Protection is N7,800
Where can you buy Immunace Extra Protection In Nigeria?
You can Buy Immunace Extra Protection at Asset Pharmacy Lagos Nigeria, Nigeria's Largest Online Pharmacy.
How to Use
ONE TABLET PER DAY WITH YOUR MAIN MEAL. Swallow with water or a cold drink.
Not to be chewed. Do not exceed the recommended intake. Only to be taken on a full stomach. Can be continued for as long as required. This comprehensive formula replaces other Immunace supplements and multivitamins.There is no need to take an additional multivitamin.
Suitable for vegetarians
No artificial colours or preservatives
Gluten free
No yeast or lactose
Immunace® is not tested on animals
FOOD SUPPLEMENT
Food supplements must not replace a varied and balanced diet and a healthy lifestyle.
As with other food supplements, consult your doctor or pharmacist before using if you are under medical supervision, pregnant, breast-feeding, have epilepsy, haemochromatosis, a thyroid condition, suffer from food allergies, or are allergic to any of the ingredients. Made in a site that may handle nuts. Not suitable for children.
This product contains vitamin K. Those taking anticoagulants (blood thinners) should not take this product except on the advice of a doctor.
This product contains iron, which if taken in excess, may be harmful to very young children.
Product Details
Results vary amongst individuals, but in most cases, we would expect the beneficial effects of the vitamins and minerals in Immunace Extra Protection to build over several weeks. There is no maximum length of time over which Immunace Extra Protection may be used. A regular intake is recommended.
Generally, Immunace Extra Protection may be used along-side medications because it contains only moderate levels of vitamins and minerals and is free from drugs and hormones. For specific advice on taking Immunace Extra Protection with medicines, we recommend that you contact your doctor or pharmacist first.
Side Effects
Immunace Extra Protection has no known side-effects when taken as directed. Do not exceed the recommended tablet intake. In case of overdose, seek medical advice immediately.
Ingredients
Full ingredients
Vitamin C (Ascorbic Acid [Carrier: Hydroxypropylmethylcellulose]), Magnesium Hydroxide, Vitamin E (DL-Alpha Tocopheryl Acetate [Carriers: Silicon Dioxide & Purified Talc]), Bulking Agents: Dibasic Calcium Phosphate & Microcrystalline Cellulose, Citrus Bioflavonoids, Tablet Coating: (Hydroxypropylmethylcellulose, Propylene Glycol, Ethyl Cellulose, Hydroxypropylcellulose, Capric Triglyceride, Colours [Iron Oxides]), Alpha Lipoic Acid, L-Cysteine, L-Carnitine Tartrate, Zinc Sulphate, Thiamin (Vitamin B1 as Mononitrate), Niacin (Nicotinamide), Anti-Caking Agents: Magnesium Stearate, Silicon Dioxide & Purified Talc, Pantothenic Acid (as Calcium Salt), Polyvinylpyrrolidone, Grape Skin Flavonoids, Ferrous Fumarate, Polyvinylpolypyrrolidone, Astaxanthin, Betacarotene (Potato Starch, Water, Antioxidant: DL Alpha Tocopheryl Acetate), Vitamin B6 (Pyridoxine HCl), Vitamin A (Acetate [Carriers: Gum Acacia, Starch, Sucrose, Tricalcium phosphate, Antioxidant: DL-Alpha Tocopherol]), Potato Starch, Riboflavin, Manganese Sulphate, Ethyl Cellulose, Lycopene, Vitamin B12 (Cyanocobalamin [Carrier: Dicalcium Phosphate]), Vitamin D3 (Cholecalciferol [Carriers: Medium Chain Triglycerides, Colloidal Silica, Talc, Maltodextrin, Butylated Hydroxyanisole & Ethylcellulose]), Copper Sulphate, Vitamin K1 (Phytomenadione [Carriers: Acacia Gum, Glucose Syrup, Tricalcium Phosphate]), Chromium Trichloride, Folic Acid (as Pteroylmonoglutamic Acid), Sodium Selenate, Potassium Iodide
Always read the label before use
Nutritional Information
Nutritional Information
Average per tablet
Tomato Extract
5 mg
Providing pure Lycopene
0.3 mg
Astaxanthin
1.5 mg
Alpha Lipoic Acid
50 mg
L-Carnitine
30 mg
Resveratrol (Grape skin Flavonoids)
25 mg
L-Cysteine
40 mg
Citrus Bioflavonoids
30 mg
Betacarotene
3 mg
Vitamin A (2500 IU)
750 µg RE
Vitamin D (as D3 1000 IU)
25 µg
Vitamin E
40 mg α-TE
Vitamin K
70 µg
Vitamin C
150 mg
Thiamin (Vitamin B1)
18 mg
Riboflavin (Vitamin B2)
6 mg
Niacin (Vitamin B3)
27 mg NE
Vitamin B6
10 mg
Folic Acid
400 µg
Vitamin B12
14 µg
Pantothenic Acid
20 mg
Magnesium
60 mg
Iron
8 mg
Zinc
15 mg
Copper
1000 µg
Manganese
2 mg
Selenium
180 µg
Chromium
100 µg
Iodine
200 µg
While every care has been taken to ensure this information is always as accurate as possible, food products are regularly improved and nutrition content may occasionally change. As a result, we recommend that you always read the label carefully before using or consuming any products. Nutritional Reference Value (NRV) information is based on the typical composition of the product. Guideline daily amounts are those for a typical adult (men and women).NRV information for non Asset Pharmacy products is calculated by the manufacturer. Asset Pharmacy has no control over the recipe or nutritional content of such products and information on this site may differ to that given on the product label. We would therefore recommend you do not solely rely on this information and always read the product label
How to store
Store below 25°C in a dry place, out of sight and reach of children.
Delivery
Delievry time are estimates. Can vary due to the time of day you order.
Delivery time estimate are subject to the courier company.
Shipping to Lagos cost starts from N1850 Next day delivery
Shipping to Rest Of Nigeria – 2-3 days cost starts from N2000
Shipping to Rest of Africa –  5-7 working days Cost starts from N12000
Shipping to Europe 7 – 14 working days Cost srats from N18000
Shipping to Rest of the world – 7 – 14 days Cost starts from N18000