Mason Vitamin K 100mcg Tablets, 100 Tablets
Support Bone Health
Dietary Supplement
— or subscribe and save 10%
Availability: Out of stock
Frequently Bought Together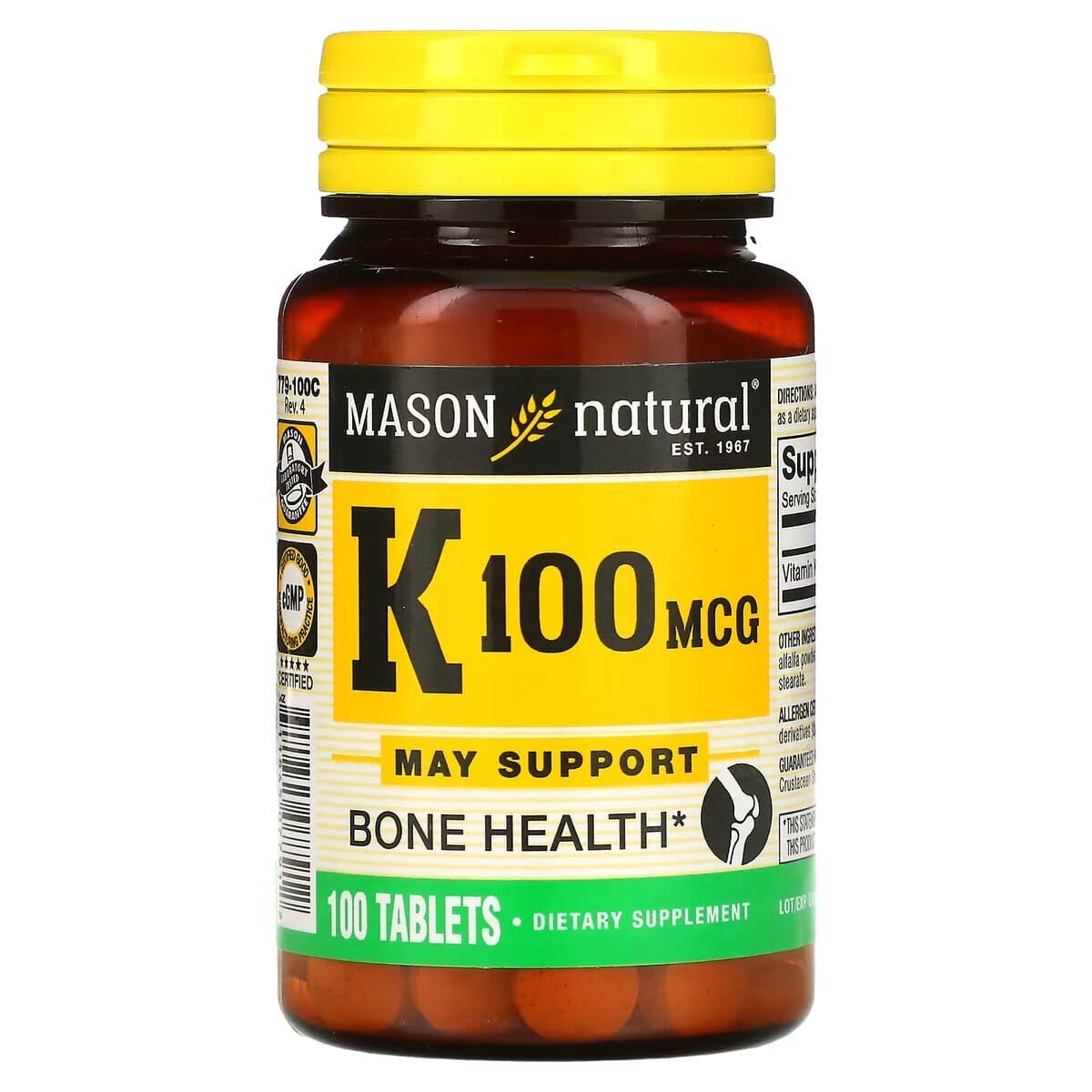 — or subscribe and save 10%
+
Mason Vitamin K 100mcg Tablets, 100 Tablets
Mason Vitamin K 100mcg Tablets is a dietary supplement for adults. Each tablet contains 100mcg of Vitamin K, an essential nutrient that helps support healthy blood clotting and normal calcium levels in the body. These tablets are easy to swallow and can be taken once daily or as directed by a healthcare professional. They are free of gluten, wheat, dairy, soy, yeast, sugar, and artificial colors, flavors, and preservatives. Mason Vitamin K 100mcg Tablets is a great way to ensure you are getting the right amount of Vitamin K for your body's needs. Enjoy optimal wellness with Mason supplements!
Benefits of Vitamin K:
Vitamin K is also important for the metabolism of calcium and the formation of strong bones and teeth.
While vitamin K1 is a fat-soluble vitamin, it is not stored in the body like other fat-soluble vitamins.
Mason Vitamin K Reviews
After using Mason Vitamin K, it's helpful to let others know about your experience. Reviews of an item help other users know that medicines received have helped the condition it is claimed for, how well the treatment worked or any issues to be aware of. We invite our users to leave a review of both their treatment and of the service provided. Click on the reviews tab to see if there has been feedback on this item.
What is the price of Mason Vitamin K in Nigeria?
The price of Mason Vitamin K is N3,950
Where can you buy Mason Vitamin K In Nigeria?
You can Buy Mason Vitamin Ks  at Asset Pharmacy Lagos Nigeria, Nigeria's Largest Online Pharmacy.
How to Use
Adults – Take one tablet daily, preferably with food, as a dietary supplement.
Product Details
Warnings
Do not use with prescription anticoagulants such as Coumadin or Heparin, unless otherwise directed by a physician.
If you are pregnant, nursing, taking any medications or have any medication condition, consult your physician before use. Discontinue use and consult your physician if any adverse reactions occur.
Keep out of reach of children.
Tamper-Evident Seal: Do not use product if seal appears tampered.
Ingredients
Vitamin K 100mg
Other ingredients
Whey, cellulose, croscarmellose sodium, alfalfa powder, stearic acid, dicalcium phosphate, magnesium stearate.
Allergen certification: This product contains milk derivatives (dairy)
Guaranteed no added: Starch, yeast, soy, wheat, egg, fish, crustacean shellfish, tree nuts, peanuts. Sodium free.
How to store
Store in a dry place under controlled room temperature: 20º-25ºC (68º-77ºF).